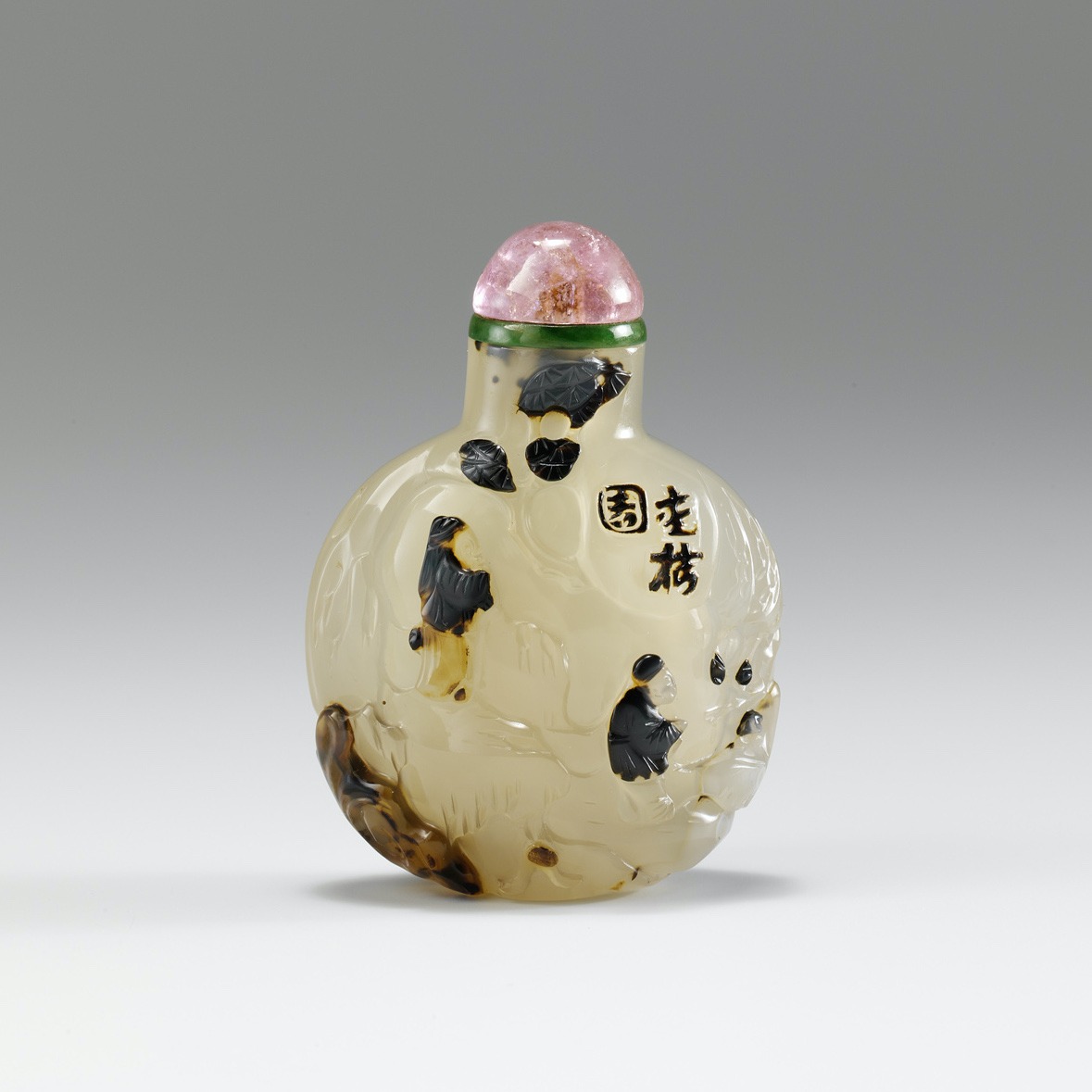 Chalcedony; of small size, carved with a sage in a dark jacket plucking plums from a tree, watched by a second figure on a rocky promontory an inscription in relief characters on the shoulders Jun mei yuan, 'Spring in the Plum Garden' the reverse with a gnarled pine springing from a complex formation of hills, with a natural gold crystalline inclusion at the foot, hidden within the rocks, School of Zhiting, Suzhou. 
1750-1850
4.9cm
Provenance:
Robert Hall (1995)
Published:
The Golden Autumn Collection of Chinese Snuff Bottles by Robert Kleiner, no. 120
POA
The early phase of Suzhou-style carving with its crisp very low relief carving, is well represented by nos. 81 and 82 above. This bottle represents the later more complex phase, possibly developed by the carver, Zhiting, during the first half of the eighteenth century, where exceptionally skilled use is made of the natural inclusions within material to highlight aspects of the subject-matter (see Treasurno. 122). The second characteristic of this later phase is the use of serrated rockwork and cliffs of differing depths to frame the scenes depicted. This style of carving was still evident to a high degree of quality as late as the Tongzhi period (1862-1873), the date incised on a chalcedony bottle in the Bloch collection (Treasury 2, no. 379).
This bottle is a fine example of the Zhiting school.The composition is well spaced and natural, unlike some examples of the school where composition is sacrificed for Virtuosity, with imaginative use of differing colours to provide contrasts, such as in the pale brown pantaloons and darker jacket of one figure and the highlighting of the hair. The inscription on the shoulders is a painterly touch which completes the Scene.