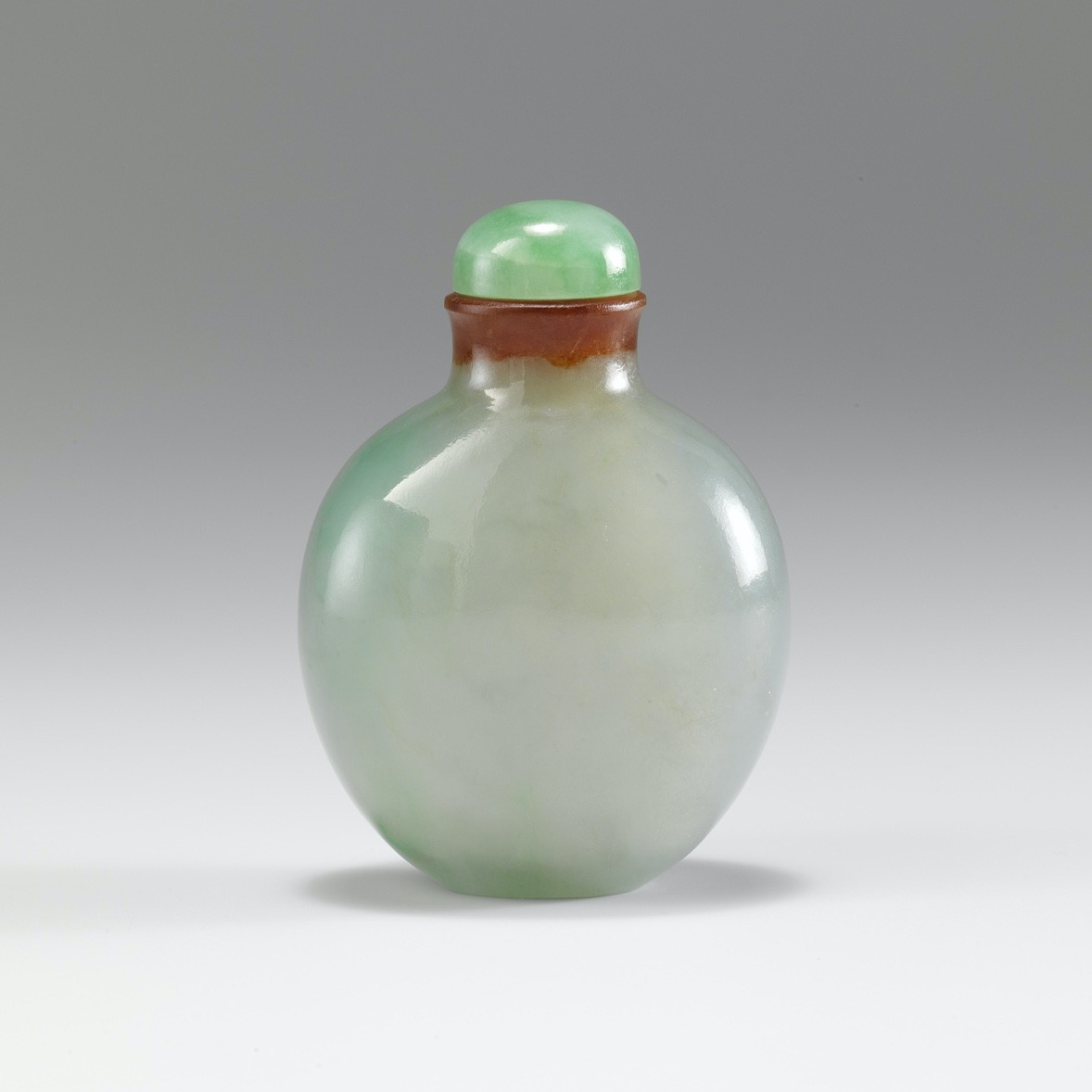 Jadeite; of translucent apple-green colour with a small mouth and flattened base, well hollowed, the neck encircled by a natural deep russet collar.
1780-1850
5.2cm
Provenance:
Arthur Loveless
Gertrude Stuart
Hugh M.Moss Ltd
Elizabeth and Ladislas Kardos
Sotheby's New York,1 July 1985, lot 134
Hugh M. Moss Ltd
J&J Collection
Christie's New York, March 30 2005 lot 41
Published:
Moss, Graham and Ka Bo Tsang, the Art of the Chinese Snuff Bottle, no. 67
The Golden Autumn Collection of Chinese Snuff Bottles by Robert Kleiner, no. 57
Exhibited:
Vancouver Centennial Exhibition, October 1977, Catalogue, no. 17
POA
Jadeite was first used in large quantities in the late 1780s and large numbers of snuff bottles of this classic ovoid shape were produced until well into the nineteenth century.
This bottle, made from material of fairly standard greenish colour, is transformed by the masterly use of the patch of russet in the stone to provide a collar around the mouth. The Chinese connoisseur was always in search of material in which the natural qualities of the stone could be used to create high art and success in this aspect was valued more than mere intrinsic worth.
The effect of the russet border has been enhanced by the slight flair of the neck which adds an extra elegance to the oval form of the body thus creating one of the masterpieces of this group.
A glance at the provenance of this bottle will show that its outstanding qualities have been appreciated by a succession of the greatest connoisseur in the field, among whom the current owner is a worthy member.